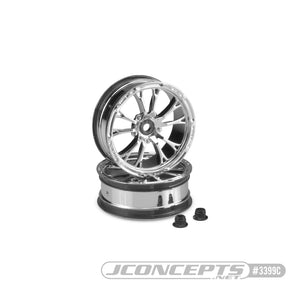 TACTIC - STREET ELIMINATOR FRONT WHEEL 2.2" - (CHROME)
As the street eliminator scene shifts to a new gear, JConcepts is on-board with another wheel option for the popular segment. Just in time for the latest release from Team Associated, the DR10, the chrome Tactic wheels are direct replacements and upgrades to that vehicle. Back in 2018, JConcepts released the first street eliminator wheel, the StarTec and it was immediately a great hit with street racers around the world.
During the early part of the 2019 racing season, the design team mocked up a new wheel and just like that, the new Tactic wheel was competition ready. The heavy spoke design and 1:1 influence imposes their will on the competition. The front wheel design extends to the outer edges giving the wheel a larger look while the rear style has a mock bead lock appearance and hefty lug detail. The inner ribbing spreads like the roots of a tree to secure the inner 12mm hub geometry.
The front Tactic wheels feature a 2.2" size which match to just about any existing buggy tire on the market while the rear wheel features a beefy, SCT 2.2" x 3.0" size and fit any SCT tire already produced. The wheels fit a vast number of vehicles for anyone looking to undertake a Street Eliminator project and accept a 12mm hex drive. Popular vehicles which use the Tactic wheels include, the Traxxas Slash, Bandit, Rustler as well as the popular line-up of Team Associated short course trucks and now, the purpose built DR10.
The chrome look gives the wheels serious street appearance and look ultra-low under any race car. The Tactic wheels match perfectly with JConcepts Hotties tires (#3193 front) and (#3194 rear) for the Street Eliminator look. The wheels have been plated in chrome and areas have been masked in non-viewing or wheel nut connection points. Non-marring 4mm wheel locknuts have been included for a cleaner installation and less damaging installation. (Serrated locknuts are not recommended in this application.) The JConcepts wheels are molded in a durable material and the product is always backed by JConcepts customer service, supported, and developed by professionals with style and authenticity.
Notes from the team –
The chrome plated parts are only intended for appearance and light use. Due to the nature of the plating process, the chrome is fragile and not meant for heavy crashes or hits. Please be aware that the chrome plating may chip or peel during abusive situations and they are not covered under any warranty because of the delicate nature of the process.
Features:
Original 1:1 inspired chrome Tactic 12mm hex design
Durable design and material
Hassle free and lightweight 1-piece design
Devastatingly handsome